Parents: Preparing for College
Helping Your Student Get "College-Ready"
There are many ways you can help your child prepare for college, and it's never too early to start. Use the tabs below to explore college preparation tips based on your child's age.
My child is:
Newborn-5 Years Old
6-12 Years Old
13-18 Years Old
Newborn-5 Years Old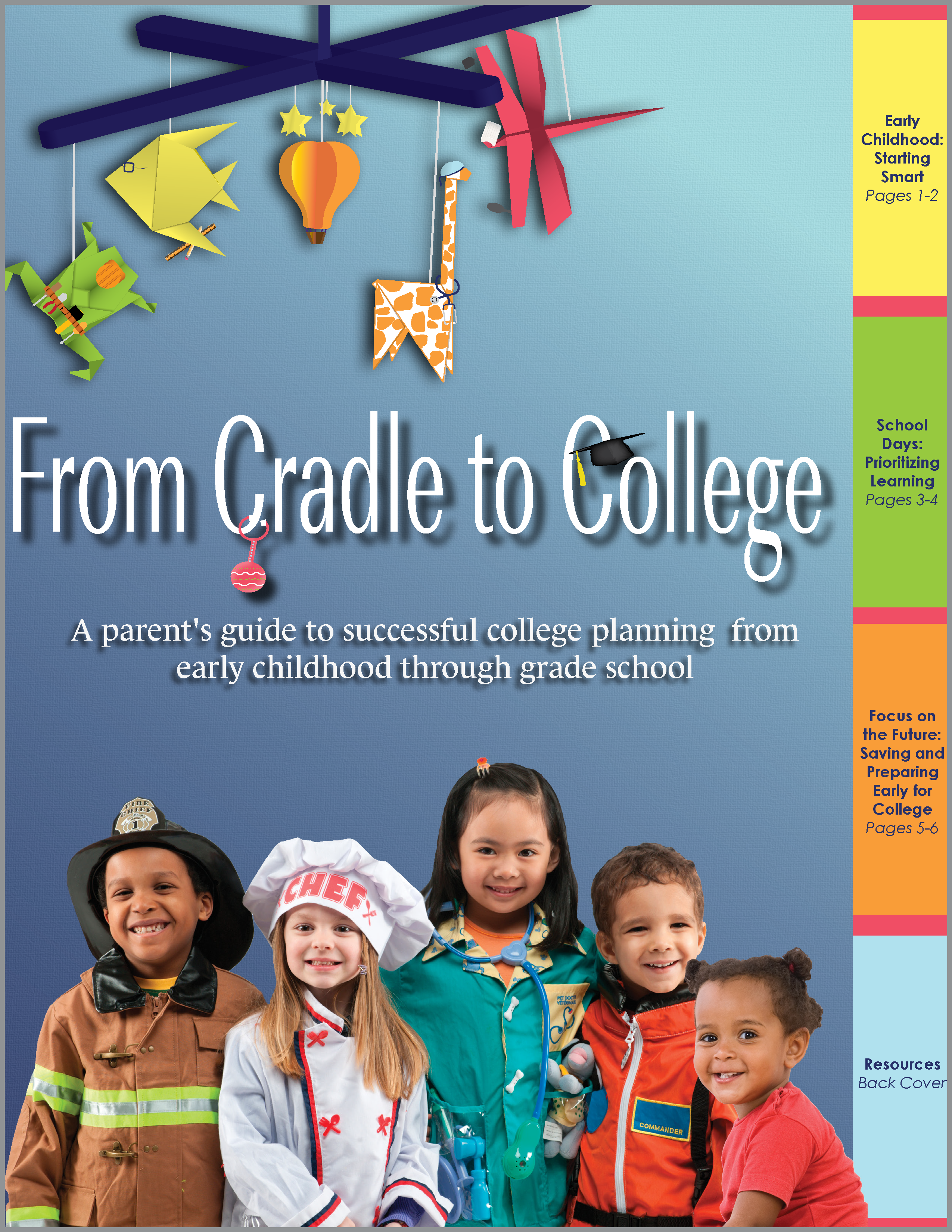 Bringing up a college-ready child means making sure the child's social, emotional and educational experiences are positive. Your time, attention and love instills a sense of safety and readiness to succeed. Experts say you can improve your baby's development by:
Reading to your baby to help develop language and sound skills.
Spending quality cuddling time, which helps your baby feel safe.
Playing gently with your baby when s/he's alert and rested.
Taking care of yourself. Your baby needs you at your best.
The First Steps: From Cradle to Classroom
School Readiness
School readiness means arriving at school with the knowledge, skills and physical and emotional health needed to successfully participate. Children need to be focused on learning. It's essential they come to school with basic human needs met, such as food, shelter and loving, nurturing relationships.
Development
Every child develops at a different pace. Standards for measuring a child's readiness for school vary. Experts agree that children are born ready to learn and what they learn depends on their experiences. Make sure you give your child as many positive learning experiences as possible.
Screening
Children who have trouble seeing or hearing or have dental problems may find it difficult to concentrate on classroom activities or homework. Check with your doctor to learn when you should have your child's vision, hearing and teeth checked. A child's ability to participate in the classroom is also affected by social and emotional health, including getting along, following instructions and regulating emotions and behaviors. It's never too early for your child to learn to play well with others.
Check out our publication, From Cradle to College, to learn more about what you can do to help your child learn, develop critical skills and do well in school.
Next tab: "6-12 Years Old"
6-12 Years Old
The early education years are a crucial time for parents to help their children realize the importance of doing well in school. You can help your child make school a priority by showing how to set goals and by teaching the fundamental elements of success in school.
Setting Goals, Setting an Example
Children can begin learning to set goals at an early age. The key to making college an expectation is helping your child develop goal-setting skills. Goal setting allows children to experiment throughout their youth to develop interests, learn how to dream and achieve those dreams.
Step One
Help your child determine a goal. Write it down and post it where it can be seen every day. The goal could be anything from finishing chores early to doing well on a test or saving enough money to buy a bike.

Step Two
Talk about how your child plans to achieve this goal. What materials are needed? Who should be asked for help or permission? Write down each step required with your child.

Step Three
Ask your child to consider the potential obstacles ahead and how to overcome them. For example, if getting chores done early is the goal, what happens if one chore is more difficult than anticipated?

Step Four
Set deadlines with your child to show how to estimate how long a task might take. Place the written plan in a visible location and check in with your child to monitor the steps taken toward achieving the goal.
Making School a Priority
Children learn from their parents' example, and when it comes to learning about the world of teachers, homework and classrooms, they look to you for guidance.
You set the standard for how your child will view school by acting, speaking and behaving in a way that demonstrates to your child that school is important.
There are a few things you can do to make school an institution your child respects.
Maintain regular attendance so your child sees that school is more important than other activities.
Focus on homework, because how you deal with homework now will set a standard for your child's entire school career. Good habits now will pay off later.
Show respect for school officials, even if you don't agree with them. Solve disputes when your child isn't present.
Check out our publication, From Cradle to College, to learn more about what you can do to help your child do well in school. If your child is in middle school, check out our college preparation tips for middle school students.
Next tab: "13-18 Years Old"
Previous tab: "Newborn-5 Years Old"
13-18 Years Old
Now that your child has entered the higher levels of school, college preparation is of utmost importance. The steps your child takes now could impact the rest of his or her life, and there are many steps your child needs to take to prepare for college.
To assist you with helping your child get to college, we've compiled a list of things your child will need to do to become college-ready. We encourage you to visit the middle school student and high school student preparation sections within this site and to discuss each item listed below with your child when relevant.
Previous tab: "6-12 Years Old"