Paying for College
The Steps to Take in Middle School
College is an important investment in your future. Yes, it costs both money and time, but tuition (the cost of attending college) at Oklahoma state colleges and universities is among the lowest in the nation. Don't let the cost of higher education keep you from reaching your goals.
College Savings
Financial Aid
Scholarships
College Savings
It's not too late to start saving for college! Even saving a little over time can increase the likelihood that you'll go to college. Ask your parents and grandparents to check into the Oklahoma 529 College Savings Plan, a tax-deferred program that can help your family save for your college education. For more information, visit ok4saving.org.
Do you have a savings account? Look at what can happen when you save just $20 a month from now to age 18.
| | | | | |
| --- | --- | --- | --- | --- |
| Age You Begin Saving | $20 per month to age 18 | $30 per month to age 18 | $50 per month to age 18 | $100 per month to age 18 |
| Birth | $4,320 | $6,480 | $10,800 | $21,600 |
| 5 Years Old | $3,120 | $4,680 | $7,800 | $15,600 |
| 10 Years Old | $1,920 | $2,880 | $4,800 | $9,600 |
| 15 Years Old | $720 | $1,080 | $1,800 | $3,600 |
Review the chart above and write down how much you could save each month if you started now. By setting up a savings plan, how much would you have by the time you enter college?
Tell your parents how much you've decided to save each month and ask if they would be willing and able to contribute to your savings plan. See if they'd be interested in setting up a savings account such as an Oklahoma 529 College Savings plan.
Next tab: "Financial Aid"
Financial Aid
Most students need some help paying for college. State agencies, the U.S. Department of Education and even individual colleges provide financial assistance to help you handle the expenses of attending college.
Financial aid is money that's available to help you and your family manage the cost of college.
Types of financial aid include:
Grants — Students typically don't have to repay grants, and some are based on financial need. Federal and state grants are available to qualified students.


Work-study — Money you earn in a part-time job on- or off- campus. It's a great way to get work experience before you graduate from college.


Scholarships — Learn about Oklahoma's Promise and other scholarships for college. There are certain scholarship programs that middle school students can apply for. Do a little research to see which scholarships are open to you and start earning free money for college now!


Student loans — Funding to help pay for the cost of college that isn't covered by free aid or family savings. Loans must be paid back—with interest. Never borrow more than you need!
It all starts with the Free Application for Federal Student Aid (FAFSA). This application allows you to apply for federal and state financial aid to help cover college expenses. You'll fill out a FAFSA for the first time in your senior year of high school, then every year you need aid during college.
Next tab: "Scholarships"
Previous tab: "College Savings"
Scholarships
Scholarships are often called "free money" because they don't have to be paid back. So when it's time to apply for financial aid, make sure to check into every type of scholarship program that might be available to you. You can start applying for scholarships in middle school.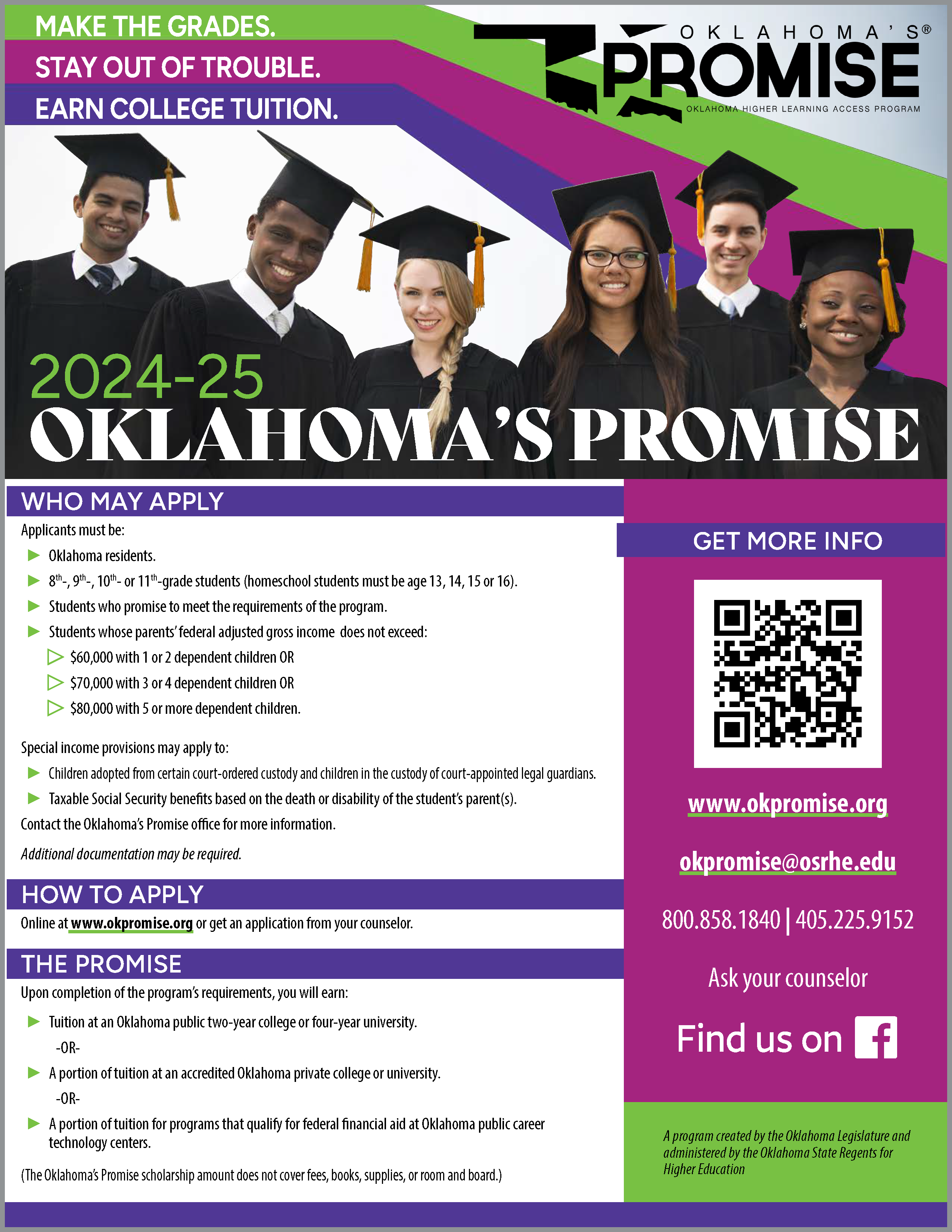 Our state's signature scholarship program is Oklahoma's Promise. In order to qualify:
the student must be an Oklahoma resident;
the student must apply in the 8th, 9th, 10th or 11th grade (homeschool students must apply at age 13, 14, 15 or 16);
the student's parents must earn $60,000 or less per year at the time of application*; and,
the students must promise to meet the additional requirements of the program.
Oklahoma's Promise provides:
Free tuition at an Oklahoma public two-year college or four-year university or,
A portion of tuition at an Oklahoma private college or university or,
A portion of tuition for courses at public technology centers that are approved for credit toward an Associate of Applied Science degree at a public college.
Additionally, students must graduate from high school (or complete equivalent home schooling) and successfully meet the other program requirements. Learn more at okpromise.org.
*In addition, the federal adjusted gross income (AGI) of the student's parents (or the income of the student if the student is officially determined to be financially independent of their parents) may not exceed $100,000 at the time the student begins college and before receiving the scholarship. The family's adjusted gross income will then be verified each year the student is in college, and for any year the income exceeds $100,000, the student will not be eligible to receive the scholarship.
There are lots of scholarship websites you can visit to find possible funding for college. Use the Scholarship Success Guide to start looking for scholarships. To find scholarships available to you in middle school, visit your local library and check out our scholarships for middle school students!
Previous tab: "Financial Aid"